EuroKing is a leading maternity information systems provider, supporting hospitals across the UK and Ireland since 1984. EuroKing's name was influenced by its first customer: King's College London, which is still a customer today. EuroKing understands the needs of the NHS.
In line with the Department of Health (Maternity Services in England, 2013), EuroKing's vision is to use specialist technology, to assist hospital trusts to meet the requirements of their patients by minimising risk (Sign Up To Safety campaign, 2012/13) [www.england.nhs.uk/signuptosafety] and helping to provide high quality maternity care (NAO, 2007), in a cost efficient way.
A combination of industry knowledge and technological expertise enables EuroKing to provide flexible, scalable and feature-rich solutions that support women and clinical staff throughout pregnancy.
Why choose EuroKing?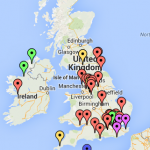 EuroKing has a proven track record of delivering solutions on time and within budget and supports over 37 Trusts with its solutions.
EuroKing's core product is its Maternity Information System, E3. This intuitive and complete solution for maternity departments links seamlessly with existing workflow and other hospital IT systems, enabling all data to be captured electronically.
EuroKing is part of the Wellbeing Software Group.