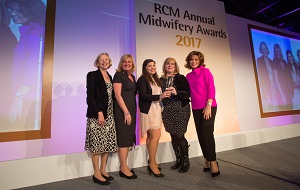 Two London midwives have won one of the UK's top midwifery awards at the Royal College of Midwives (RCM) Annual Midwifery Awards 2017.
Midwives Cathy Falvey Browne and Caterina Raniolo who both work at Bart's Health NHS Trust in the capital scooped the EurKing Award for Better Births for their maternity programme; Transforming Maternity Services Together (TST).
The aim of the pilot programme created by Cathy and Caterina was to empower midwives to provide better continuity of care for women throughout their pregnancy, birth and beyond.
The project was devised as a direct response to the needs of women following the Better Birth National Maternity Review in England last year, where women surveyed revealed that the would prefer more choice surrounding place of birth and continuity of carer during their pregnancy.
Their new pilot scheme includes a midwifery led group practice which will be attached to a GP surgery where women of all risks can choose to book direct with them. With the overarching aim to improve continuity of carer the women will see no more than 2-3 midwives throughout their entire pregnancy.
Cathy and Caterina were presented with their award at the Royal College of Midwives Annual Midwifery Awards at a ceremony in The Brewery, London on the Tuesday March 7th 2017.  The ceremony was hosted by BBC journalist and broadcaster Natasha Kaplinski.
Commenting on the winning entry the judges said; "Trying to turn a large and complex service around to be women centred for all women.  Considering the borough has 137 languages and high levels of depravity and a transient population they have been able to engage with women to plan continuity.  Future proofed their service to take account of projections for raising birth rate."
Chris Yeowart, Managing Director of EuroKing, said; "I would like to take this opportunity to congratulate both Cathy and Caterina. As EuroKing always strives to develop its technology to support 'better births', we are delighted to sponsor the Better Births Award which recognises the wonderful work being done by midwives and maternity teams. Cathy and Caterina's initiative is a fantastic example of the support all women need for improved birth experience."
Cathy Warwick, Chief Executive of the Royal College of Midwives, said: "To win an award is a real achievement. "Without midwives, their teams and colleagues from other health professions pushing at the boundaries of practice we would not see the care they are able to give to women, babies and their families improve and move forward. This is innovation in action which will help maternity services everywhere to deliver safer, better and continually improving care.
"I congratulate Cathy and Caterina on their wonderful achievement and thank them and their colleagues for their dedication, skill and commitment to women, babies and their families."
More information on the RCM's Annual Midwifery Awards is available here: http://www.rcmawards.com/