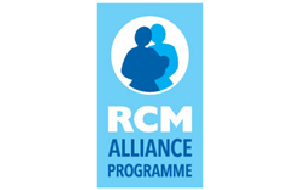 Hand in Hand – How does the RCM Alliance Programme benefit midwives? We take a look at one of the newest Alliance Partners, EuroKing. 
A pictorial guide to birthing positions; the Mums' Midwife of the Year Award; a webinar on addressing weight management issues; an A to Z guide to pregnancy and nutrition.  What do these things have in common? They all came about as a result of the RCM's Alliance Programme. Set up in 2004, the Alliance Programme supports strategic partnerships between the RCM and commercial organisations.
Currently there are seven in place – Johnson's®, Vitabiotics Pregnacare®, Slimming World, EuroKing, Lansinoh, Emma's Diary and Kellogg's All-Bran – each carefully considered, only coming about after a lengthy due diligence process. Every partnership is also supported by the RCM's director for midwifery and a senior midwife to ensure RCM guidance and best practice is always followed. They have an important part to play in generating revenue to develop new resources and campaigns, and fund the RCM's work to support its members. Partner support is also vital to RCM events, including the annual awards and conferences. But the partners bring much more than this. Research grants and bursaries, leaflets, websites, i-learn modules, webinars, educational resources, research, and evidence-based practice are all direct benefits of the programme. It also has a vital role to play in raising the profile of the RCM and extending its reach, with partner channels helping to deliver public health messages, and generate feedback from families. While all share the common goal of promoting the interests of midwives and supporting pregnant women, babies and their families, each partnership has a specific focus, drawing on the strengths of the individual organisation.
EuroKing and the RCM
This year has been a particularly busy one for the Alliance, with four new partnerships announced – the first of which was with maternity information systems provider EuroKing. It will see the RCM and its members inform the development of new 'fit for purpose' IT solutions to support them in caring for women. Production of the updated birth position swatch guide was funded through this partnership, and initiatives around digital record-keeping are also being considered.
The benefits
There is much to be gained on both sides. Partners are able to draw on the RCM's breadth and depth of knowledge, and the insights of its members. They are also able to use RCM logos to reflect their support and place in the Alliance, subject to RCM review.  Clearly the RCM and its members also benefit greatly. The support is not only important at an organisational level, but also on an individual basis, providing resources to midwives when NHS funding is under pressure.  And everything produced through the Alliance is carefully reviewed by the RCM, which means midwives and mothers can rely on the resources to be evidence based, current and accurate.  The connection with big consumer brands also raises the profile of the RCM, helping it to encourage evidence-based research and disseminate information, as well as opening up channels of communication with the wider public.
Cathy Warwick, RCM chief executive, says: 'The Alliance Programme is a fantastic resource for the RCM and our members. 'Through the additional income and energy that the partnerships provide, we are able to offer tailored services and resources that membership income would not cover.
'The partners also make a significant contribution to the RCM awards and conference, as well as other events such as the MSW conference. I believe that carefully considered, well-managed partnerships with a range of high-quality companies are a brilliant way of helping us all to carry out our roles to even better effect.'